How Alcohol Can Damage a Marriage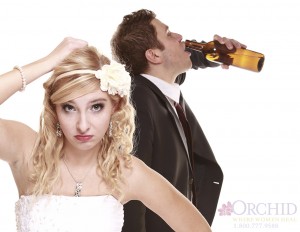 The words 'until death do us part' are in the vows at many weddings, but some people never even consider that one day it may come sooner than expected because of excessive drinking and the disease of alcoholism.
Alcoholism destroys almost every important piece of happiness that any alcoholic has, or it drains the joy away from even the most powerful loves of our lives. It is not always easy to see the depths of the damage that alcohol can have on a marriage, but most times when it does damage 'in sickness and in health' is a struggle all its own.
Lack of Communication Creates Resentment
Alcoholism can bring a complete breakdown of communication for a marriage. As the excessive drinking escalates, small arguments become more common and eventually spawn into deeper and more intense battles. Fierce resentments have a tendency to build up, and with that the communication becomes even more compromised as distance between spouses spreads.
An alcoholic will develop resentment against his or her spouse whenever they make any efforts to interfere with their drinking, and the other spouse often resents the alcoholic's inability to stop drinking. These resentments will cause communication, as well as any hope for real intimacy, to crumble.
Some alcoholics will even frequently become verbally abusive under the influence, which will take a more devastating toll on their non-alcoholic spouse. And when physical abuse becomes and element, then it is definitely time for action to be taken against this kind of toxic relationship. Physical violence is less common than verbal abuse by the alcoholic spouse, but violent acts towards their spouse has serious consequences for all concerned.
In the even more volatile event that both partners are alcoholics, arguments will become endless and neither of the spouses generally function on any level that consistently or effectively nurtures the relationship in capacity.  However, there is a flip side to this particular situation and that is the drinking partners develop a very intense, unhealthy co-dependency. In this kind of alcoholic marriage the two will support and enable each-others unhealthy and excessive drinking, and the relationship is typically dependent primarily on mutual alcohol abuse.
Family Functions and Abuse
The alcoholic will not necessarily always be unable to fulfill their responsibilities or participate in family affairs due to their drinking, but there are other factors such as increased unreliability or as a result of drinking there may be a lack of interest or being altogether absence from the family that will attribute to the deterioration of the family unity.
The disease of alcoholism can be a plague on any marriage or relationship, and with the children raised in an alcoholic house hold there is a lot of concern regarding the long term emotional trauma from negligence or abuse. Any form of abuse is absolutely unacceptable for a healthy marriage to exist. Something that is meant to be based off of love and loyalty cannot survive and grow when one person cannot control themselves and choses to subject the other to abuse, be it verbal or physical.
Changing the Cycle
This situation can improve if a problem drinker makes a real attempt to pursue some kind of help, whether in the form of marriage counseling or in more serious cases a possible substance abuse treatment program. Many rehabs include alcohol abuse treatment programs to help rebuild the core concepts of unity for the family.
Sadly the rate of successful recovery from alcohol addiction for those who try to quit drinking and abusing alcohol on their own is so low, so unless there is more awareness and efforts made to change the cycle, alcoholism will likely advance as a disease and continue to torture the non-alcoholic spouse and family members such as the children.
In the cases where there is no recovery the marriage and the challenging circumstances that surround and torment the two spouses will do serious damage before anything has any opportunity to get better. Broken hearts and broken vows tend to surround the marriage of an alcoholic who goes on drinking without seeking a solution, and there is a lot of great love lost.
Remember that the alcoholic is a sick person, and there is hope for their recovery. Yes love does mean accepting people for their flaws, but it does not mean having to accept that the disease of alcoholism will rule over your marriage. If you or someone you love is struggling with substance abuse or addiction, please call toll-free 1-800-777-9588