Addiction Awareness Finds an Unlikely Voice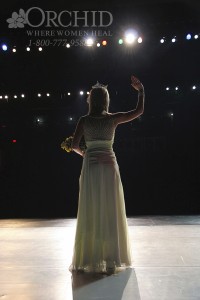 Raeanna Johnson is the current reigning Miss Wisconsin as well as a recent college graduate, whose platform has been substance abuse and addiction awareness.
That's because the beauty queen has been affected by the disorder in a very personal way: in 2005, when she was 15 years old, her brother, Tyler, committed suicide a mere 3 months after graduating high school. It was later found that he had methamphetamine in his system at the time of his death.
So, when she began entering local contests, Raeanna chose substance abuse and addiction as her platform so that she could promote awareness as well as opportunities to seek help for those struggling with drug addiction.
Addiction Awareness Finds an Unlikely Voice
Raeanna and Tyler's mother started Tyler's Legacy, Inc. – an organization supported by a website dedicated to promoting awareness about the impact of substance abuse and addiction on families. But it's been Raeanna's personal mission to bring national awareness to her campaign through her title as Miss Wisconsin and she hopes to continue advocating long after her beauty pageant days are over; Raeanna hopes that her work in preserving her brother's legacy is what she will be most remembered for.
Raeanna Johnson spoke with The Fix about how she has been able to use the platform provided by being Miss Wisconsin to promote Tyler's Legacy, her future campaign plans, and the importance of getting support in dealing with the death of a loved one.
The Fix: Even though he took his life, do you think his drug use contributed to his death in any way?
Raeanna: We have said before that we can blame his drug use for his decision to end his life. When he did that, he was no longer himself at that point. I don't think he would have made that decision if he weren't using, but we also don't want to think he was that sad.
My mom had started Tyler's Legacy Inc., and would hold a monthly support group where she would bring in a speaker, but my own activism didn't take place until two years after Tyler's death when I entered my first Miss America competition. My speech teacher told me that I was already speaking at a college level, so I realized that I could share my story and help create awareness. The Miss America Organization really just gave me the confidence to do that and provided a huge platform that helped me do things with Tyler's Legacy that were beyond my wildest dreams.
This all started on such a small level. I just wanted to speak at DARE graduations and local schools, but the feedback was so positive from the very beginning. When I won Miss Holmen at age 17, I honestly had forgotten about the chance to compete for Miss Wisconsin or the scholarship money. I just wanted to share my story and help create awareness.
The Fix: What advice would you give to someone who is struggling to get over losing a family member or loved one?
The biggest is to seek out people who are supportive. I felt shame at first because there were people who looked at me with judgmental eyes and also placed blame on him. They told me that Tyler was in hell for ending his life. It's so important to remember who they were before the substance abuse because Tyler wasn't himself when he ended his life. In these situations, seeking out people who will help enable that and be supportive is ultimately a survival technique.
If you or a loved one is struggling with substance abuse or addiction, it's time to get help – before it's too late. It's important to know that you are not alone in this and that there are people who care about and love you, even you don't think so. Substance abuse and addiction is a very lonely place and is skews reality. Call toll-free 1-800-777-9588 day or night and you will speak directly with a compassionate, understanding, and knowledgeable Addiction Specialist who can answer your questions.