8 Reasons to Exercise in Recovery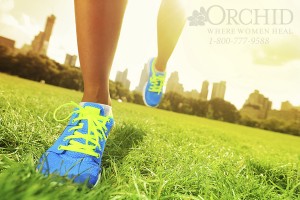 You've heard it many times before, exercise is important to overall health. But, what you may not know is that regular exercise is of utmost importance to people recovering from alcohol and drug addiction. Here are 8 reasons to exercise in recovery.
#1. Physical Health
This is an obvious one but, exercising, when done right, will improve your overall general health. Benefits include:
controlling weight
reducing your risk of cardiovascular disease
reducing risk for type 2 diabetes and metabolic syndrome
reducing risk of some cancers
strengthening bones and muscles
#2. Mood
Many of us in recovery have other things going on, such as a mood disorder like depression or anxiety. This is known as dual diagnosis. Studies show that exercise can even alleviate symptoms of clinical depression. That's because physical exercise boosts 'feel good' chemicals, releasing endorphins, which create feelings of happiness and euphoria. People who suffer from depression or anxiety should get their fair share of gym time because, in some cases, exercise can be just as effective as antidepressants.
Don't worry if you're not exactly a gym rat — you will achieve a happy 'buzz' from just working out for just 30 minutes a few times a week, which can instantly boost overall mood.
#3. Address PAWS Symptoms
PAWS symptoms can crop up at any time – especially when you're feeling stressed and not taking care of your health as you should. In fact, PAWS can occur at any point during the rest of your life. The good news is that there are ways to control your PAWS symptoms and even keep them from rearing their ugly head. And one major way to do that is to exercise on the regular. Here are the ways exercise helps with PAWS:
Reduces stress. One of the most common mental benefits of exercise is that is offers stress relief. Exercise increases concentrations of norepinephrine, a chemical that can moderate the brain's response to stress.
Prevents cognitive decline. In general, the aging process kills off brain cells leading to our brains getting a little hazy over time. For those of us in recovery, we are at extra risk of cognitive issues as this is yet another PAWS symptom. Working out, especially between the ages of 25 and 45, boosts the chemicals in the brain that support and prevent degeneration of the hippocampus, an important part of the brain involved with memory and learning.
Alleviates anxiety. The warm and fuzzy chemicals that are released during and after exercise can help with anxiety disorders. Moderate-to-high intensity aerobic exercise can reduce sensitivity to anxiety.
Sharpens memory. OMG I need to exercise for this benefit, alone! Since getting clean, my memory is so fuzzy. Regular physical activity boosts memory as well as the ability to learn new things by increasing production of cells in hippocampus (again, the part of the brain responsible for memory and learning. For example, a study has shown that running sprints improved vocabulary retention among healthy adults. If you're a word-nerd like me, then you'll want to up your exercise game!
#4. Improve Self-confidence
Exercising will help you look – and more importantly, feel – like a million bucks. On a very basic level, physical fitness can boost self-esteem and improve positive self-image. Regardless of weight, size, gender, or age, exercise can quickly elevate your perception of your own attractiveness, and therefore self-worth. What a great way to practice self-love?!
#5. Encourages you to eat better, too
From personal experience, ever since I started working out regularly, I've been able to change my eating habits – which has been a goal of mine for a while now. I couldn't seem to stick with any kind of diet changes I was trying to establish. Not until I started working out, that is. I guess, when you are feeling better and looking better, you just want to maximize that by also eating better, which then helps you to look and feel even better. Good nutrition also helps with PAWS, by the way.
#6. Improve sleep
Exercise can help reboot your body's internal clock, and therefore helping you to get to bed at a decent time, the right time, as dictated by your body. Alcohol and other drugs disrupt many body processes, including circadian rhythms, which control the sleep cycle. It's no wonder that so many of us experienced insomnia in our active addiction. And for some, these cycles are still 'off' even though they're clean and sober. Exercising regularly will help you to re-set your clock and sleep better.
#7. Increase Productivity and Overall Energy
Get more done by adding exercise to your daily routine. It may seem like a conundrum: feeling like there isn't enough time in the day to get everything done, let alone adding exercise to your plate. But research shows that people who make the time to exercise on the regular are actually more productive (read: get more done) than people who don't exercise. Also, and you'll have way more energy than your more sedentary, inactive peers.
#8. Boost Creativity
Tap into your creativity. A heart-pumping gym session can boost creativity for up to two hours afterwards. And tapping into creativity in sobriety is an amazing way to support you in your recovery. Having a creative outlet has been such an important part of my program.
Are you feeling like you're stuck in a rut? Stuck in a cycle of substance abuse, addiction, feeling sick and tired – physically, mentally, and emotionally? Help is available. Call toll-free 1-800-777-9588 to speak with an Addiction Specialist; we're available 24/7.