Posted on March 4, 2014 By
admin
Having expectations is treading in dangerous territory. I know, it's easier said than done to not have any expectations – after all, it's human nature to form ideas and preconceived notions of people and situations. However, if you are not aware that you are doing this, these expectations will certainly run amok. Here are 5 expectations that will only lead to resentment.
#1. Your sponsor will never do anything wrong
It's true, we look up to our sponsors. After all, they are helping us immensely at a time when we really need it. But, it's important to remember that your sponsor, like you, is only human and therefore will make mistakes. Having crazy-high expectations of your sponsor will only cause you harm.
#2. People in the program are actually working a program
You've probably heard (or been told by your sponsor) to not take other people's inventory and that everybody's program is their program – even if it appears as if they're not even working a program. What others are doing (or not doing) is simply not your business. So what if their recovery looks different from yours? Does it really have any bearing on the quality of the program you're working? If it does, that means you are forming unrealistic expectations of others which will only lead to resentment. And you know what they say about resentments – they will take you back out, my friend.
#3. Everything will fall into place right away
Being recovering addicts means that we are wired for instant gratification: we want what we want and we want it NOW. Just because you're clean and sober doesn't mean that all of your problems magically go away. Don't get me wrong – A LOT of your problems will be resolved simply by getting clean because these problems were directly related to your drug use. But, like many others in recovery, especially early recovery, you might have stuff to "clean up" from the days, weeks, years spent in your active addiction. Things like legal issues and ruined relationships, to name a few.
#4. Being sober means no more problems
#5. The "pink cloud" will last forever
When you first get clean and sober, you experience what others in the program call "the pink cloud" – you feel great physically, mentally, and emotionally. They warn you, though, that at some point, the pink cloud will dissipate, lowering you from this natural high back down on the ground called 'reality.'  If you're like me, it was hard to believe that this feeling-good ride would ever end. We caution others about this not to be jerks and pop your bubble but, to make sure you're careful not to form an expectation that things will always be great now that you're living a sober lifestyle. As it's also said often, life still shows up on life's terms. The sooner you embrace this notion the better off you are. Catching a resentment against life, in general, is definitely the fast-track back to active addiction.
If you or someone you love is struggling with substance abuse or addiction, please call toll-free 1-800-777-9588.
Posted on By
admin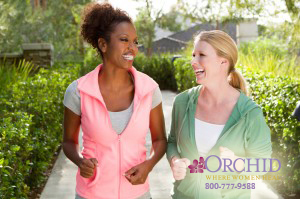 Substance abuse is a defined as a pattern of drug use that causes physical and psychological consequences. Substance abuse is a medical condition that involves tolerance to a drug or drugs and leads to other medical conditions: dependence and addiction. Substance abuse treatment is available for those who are suffering with any of these.
Substance Abuse Treatment for Women in Vero Beach: What is it?
Substance abuse treatment involves several levels of treatment: detox – where you will be treated for the physical dependence to drugs and alcohol through the use of medication; rehab – where you will receive behavioral therapies in order to learn about your drug use patterns as well as ways to cope in healthy ways instead of turning to drugs and alcohol; and aftercare. Substance Abuse Treatment for Women in Vero Beach helps women who are addicted to drugs and alcohol stop the compulsive and obsessive drinking and drug using behaviors that they are caught up in.
Substance Abuse Treatment for Women in Vero Beach: Detox
You will first go through detox as part of your substance abuse treatment for women in Vero Beach. This is considered a luxury anywhere else. The benefits of receiving detox are that you are given medication so that you are both safe and comfortable as the drugs and alcohol leave your system.
Substance Abuse Treatment for Women in Vero Beach: Inpatient Rehabilitation
Substance abuse treatment for women in Vero Beach also inpatient rehab or 'rehab,' for short, and lasts up to 30 days. The purpose of rehab is to offer you a safe haven while you heal and recover from your drug and alcohol use. During your substance abuse treatment for women in Vero Beach, you will have all your needs provided for including comfortable housing and nutritious, well-balanced meals while you are given important, life-saving information about substance abuse and addiction. You will attend both individual and group therapy sessions where you will begin to heal your mind while healing your body and you will learn tools and coping methods in order to live a healthy lifestyle once you complete substance abuse treatment for women in Vero Beach.
Substance Abuse Treatment for Women in Vero Beach: Aftercare
An effective substance abuse treatment for women in Vero Beach will also provide aftercare programs such as Intensive outpatient (IOP), which offers continued group and individual therapy along with support with job placement and support with finding a reputable halfway house, or sober living community, also called a sober house.
Substance Abuse Treatment for Women in Vero Beach: Dual Diagnosis
Dual diagnosis means that a person has two medical conditions co-occurring at the same time. Often, these terms are specifically used in the addictions field and mean that the patient has both a substance abuse or addiction issue and a mental health issue such as depression or anxiety.
The Orchid Recovery Center treats women with dual diagnosis and provides detox, rehab, and aftercare services in the South Florida area. If you or a loved one is seeking substance abuse treatment for women in Vero Beach, FL that specializes in treating dual diagnosed women, please call toll-free 1-800-777-9588.
Posted on March 3, 2014 By
admin
When you think of the classic rise-from-the-ashes story, Robert Downey, Jr. is probably the first celebrity name that comes to mind. RDJ, as his name is affectionately abbreviated, was synonymous with drug abuse and addiction. Today, however, RDJ is sitting pretty. He has re-built his image and career – to even greater than before. He is the epitome of the phoenix story: crashing and burning only to rise again from the ashes, a new and improved version of himself. Among his ranks are the 7 most inspiring celebrity comebacks (after drugs).
#1. Drew Barrymore
It's well-know that Drew Barrymore was a wild child. Hers was a tragic tale of what childhood fame can lead to: at age of 9, Barrymore was already smoking cigarettes, at 11 she was alcoholic, at 12 she was regularly smoking marijuana, at 13 she was addicted to cocaine and at 14 she attempted suicide. After two stays in rehab, Barrymore turned her life around. She's now a successful actress, producer, and owner of a film production company. Barrymore is also a stunning mom-to-be.
#2. Britney Spears
After a very public meltdown during which Spears seemed to become completely unraveled, the former teen pop star sensation did an about-face. The star admitted that she had hit rock bottom after completely shaving her hair off and attacking a photographer with an umbrella a day after she left a drug rehab. Spears had allegedly struggled with alcohol, amphetamines, and crystal meth all of which obviously took their toll on her mental health. Today, her album Circus (2008) and her newfound niche in the Vegas scene has made Spears the ultimate Comeback Kid: she has a huge fan-base again as well as the custody of her children.
#3. Robin Williams
Back in his (first) hey-day, Robin Williams was an up-and-coming stand-up comic with a raging cocaine addiction. Williams also abused many other drugs at the beginning of his career. He says that the overdose death of longtime friend John Belushi was the wakeup call he needed to change his ways. He checked himself into rehab to treat his disease. Once sober, he went on to star on many dramatic films including "Good Will Hunting," for which he earned an Oscar for Best Supporting Actor. Williams was in rehab again more recently, this time for alcohol.
#4. Ben Affleck
Oscar-winning actor Ben Affleck went to rehab for alcohol addiction back in 2001. Since, Affleck has cleaned up his act, and has continued to star and produce numerous films, eventually marrying Jennifer Garner, and having two children with her. Affleck is now slated to play Batman in the next movie in the franchise.
#5. Ozzy Osbourne
Ozzy Osbourne struggled with alcohol and drugs for nearly 40 years. In 1979, he was fired from Black Sabbath spent three months locked in a hotel room on a drug binge. Osbourne credits his then-girlfriend (now wife) Sharon with helping him to get his life back on track. He says that, had it not been for Sharon's offering to manage him he would've died in that hotel room.
#6. Steven Tyler
The Aerosmith front man was addicted to heroin and stimulants throughout the 70′s and 80′s and even collapsed at a show in 1984. This prompted his fellow band members to stage an intervention which led to him checking into rehab. Tyler relapsed in the 90′s, but is now currently sober and his career is bigger than ever.
#7. Keith Urban
Keith Urban checked himself into the Betty Ford Center in October of 2006 for rehabilitation from an alcohol and drug abuse. Shortly thereafter, Urban issued a public statement apologizing to his wife, Nichole Kidman, as well as to his friends and family for the damage he had caused them in his addiction and for "letting his guard down." Urban has remained clean and sober since and is enjoying both personal and professional success.
If you or someone you love is struggling with substance abuse or addiction, please call toll-free 1-800-777-9588.
Source:
http://www.upi.com/News_Photos/Entertainment/Most-famous-celebrity-comebacks/fp/5774/
Posted on February 28, 2014 By
admin
It's important (and helpful) to know that there's life after addiction. Here are 8 female celebs who overcame addiction and are proving that success – both professional and personal – is possible. Be inspired, ladies…
#1. Oprah Winfrey
She is one of the most successful Black, female celebrities of all time and perhaps one of the most successful celebrities – having been ranked number one on Forbes' annual list of "Most Powerful Celebrities" five times.
Winfrey opened up about her prior drug abuse while talking to a woman going through a similar problem on her show back in the 1990s. She admits to abusing crack cocaine and to issues with codependency, saying that she was probably more addicted to her boyfriend at the time than the drugs.
#2. Kelly Osbourne
Daughter of Ozzy Osbourne – the famous rocker who is also a recovering addict, Kelly Osbourne has been quite public with her own struggles with addiction.
At 17, Osbourne had become addicted to Vicodin and, although unknown at the time, this was well-documented by cameras filming their hit reality series, The Osbournes.
In 2009, after her fourth stay in a rehab, Kelly left rehab saying, "After 30 days, I left rehab. For the first time, I felt hopeful. I knew I'd been given another chance at my life, at my career, at happiness. I wanted to grab it." She is now 3 years sober and her career is taking off.
#3. Jamie Lee Curtis
Curtis revealed that she developed a painkiller addiction after a surgical procedure when she was 35.
She also admitted to drinking heavily at times, to cope with feelings of extreme loneliness.
In 2010, after 10 years in sobriety, Curtis announced, "My recovery is the single greatest accomplishment of my life. Without that, the rest of my life would have fallen apart…Recovery is an acceptance that your life is in a shambles and you have to change it. I was lucky, I didn't have to lose anything." during an interview on the Today show.
#4. Drew Barrymore
Perhaps one of the most heartbreaking and uplifting stories of childhood stardom, Barrymore began using drugs and alcohol at a very young age.
At 9 she was already smoking cigarettes and by 11 had already begun abusing alcohol.
By 12, Barrymore was smoking pot regularly and by the tender age of 13, she was heavily addicted to cocaine.
During this time, Barrymore went to rehab twice and attempted suicide when she was 14.
Since then, however, she is a sober and successful woman. Today, Drew Barrymore is a famous and successful actress, producer, and owner of her own production company, Flower Films.
#5. Kristin Davis
Kristin Davis struggled with alcohol addiction before she "made it" in Hollywood with her role as Charlotte on Sex in the City. Davis admitted that there was a time in her life that she was convinced she wouldn't live past the age of 30 because her alcoholism was so bad.  Nowadays, Davis says that the only things she's powerless over are chocolate and coffee.
#6. Nicole Richie
Richie went to rehab in 2003 following an arrest for heroin possession. Richie didn't stop then, however. Several years later, she was busted for driving under the influence per se – she was high on marijuana and Vicodin. Richie has said, "People ask me, do I blame Hollywood or my parents? No, I don't blame my parents. It had nothing to do with them. I created it and manifested it, and I got myself through it with the help of a lot of great people."
#7. Angelina Jolie
In a 1998 interview, Jolie admitted to doing "just about every drug possible," and listed substances like cocaine, ecstasy, heroin, and LSD among others. Jolie has become wildly famous since; she is an Oscar-winning actress, mother of six, UN ambassador and humanitarian.
#8. Jane Lynch
Actress and comedian Jane Lynch got sober in 1991 when she realized that her drinking had gotten out of control. She is perhaps best known for her roles in movies like Best in Show and The 40-Year-Old Virgin and the hit TV show Glee. Lynch talks about her struggles with alcoholism in her memoir Hyperion Voice.
If you or someone you love is struggling with substance abuse or addiction please call toll-free 1-800-777-9588.
Posted on February 27, 2014 By
admin
As women, when we are drinking or getting high we seem to be a little bit delusional in what we think we look like. When I was in my active addiction, I thought I looked so good and had my s*** together all the time. That was definitely not the case. I've thought of how you think you look when you're using vs. how you REALLY look.How You Think You Look When You're Using vs. How You REALLY Look:
You think – You are dancing like Beyoncé…
You really look like this…
You think – You look super cute and are taking selfies
You really look like this…
You think – You look like a bad ass
You really look like this…
You think – You look cute when you fall asleep in public
You really look like this…
You think – You sound normal when you're texting or talking to people
You really look like this…
You think – You look perfectly fine and nobody can tell you are high/drunk
You really look like this…
You think – You look attractive when trying to tempt a guy to drink with you
You really look like this…
You think – You look like the life of the party
You really look like this…
When we are in that state of denial or just insanity in our addiction, we really think we look good or look normal to other people. It's funny because once I got sober I realized that everyone already knew I had a problem – except me. We think we can hide it from the world when really, we were only fooling ourselves. Addiction is the only disease that tells you that you don't have a disease and you are fine. Looking back, I see how crazy I was and don't understand how I possibly thought other people didn't notice.
All of the things I listed above go along with: thinking you can drive when you are clearly wasted, thinking your family won't notice you are high, and thinking you look graceful and ladylike when you look like a drunken/high mess and more. Getting sober can be a real eye-opener to our behaviors in our addiction. Even though we did some questionable things in our addiction, doesn't mean we have to punish ourselves forever. That's the point to getting treatment and working a program of recovery. At Orchid Recovery Center, they have therapy and help you get past the issues you have from before and during your addiction. Going to 12-step meetings, getting a sponsor and supports and working the steps helped me forgive myself for my past actions and even be grateful for them – crazy I know!
Truth be told, I did have a good time in the beginning of my drinking and drugging but by the time it was all over I was a train wreck and exhausted.  Getting sober and continuing to live a life in recovery is the best decision I ever made for myself and if you're having issues with drinking and drugging, maybe you should look into, too. If you or a loved one is struggling with substance abuse or addiction, please call toll free 1-800-777-9588.